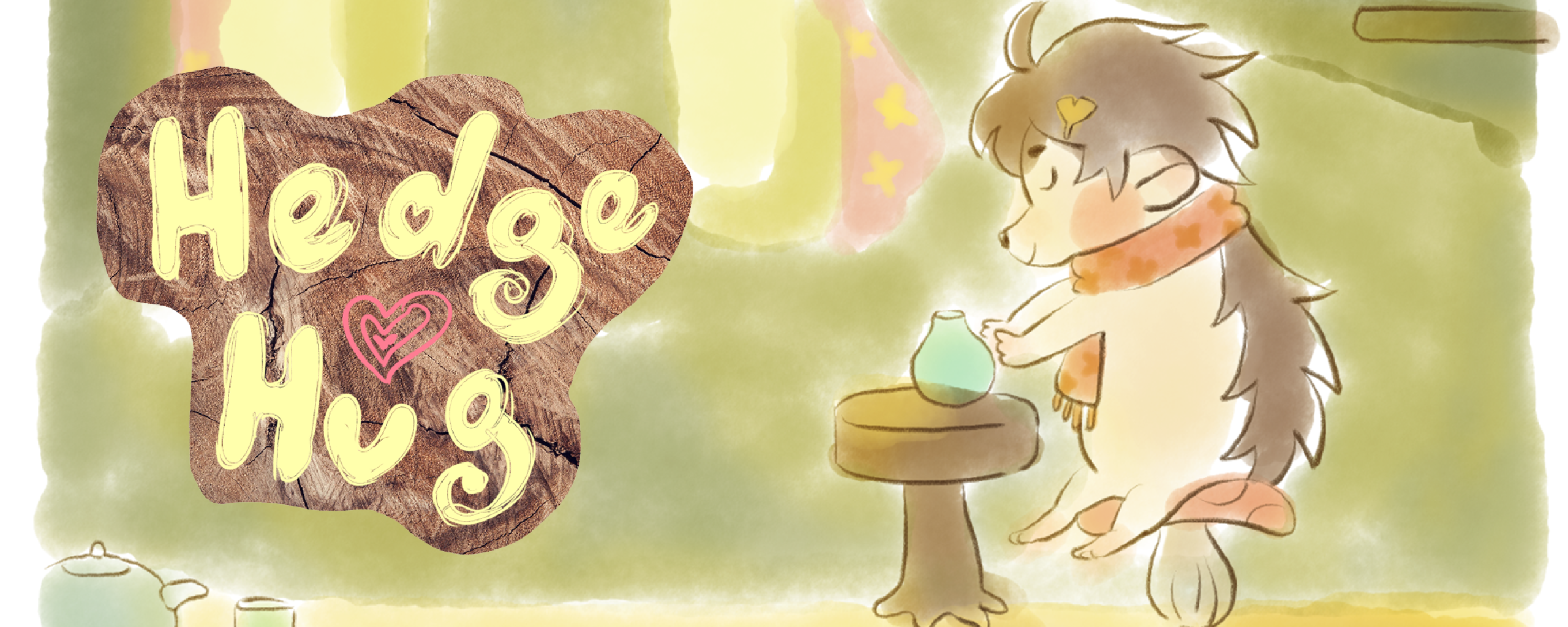 Hedge Hug
Overview
Hedge Hug is a 2D narrative-driven single-player adventure game that explores low self-esteem and social anxiety issues.
Through interactive mini-games and emotional gameplay moments, the game tells the story of a caring and sensitive hedgehog, Emma, who is a ceramic artist struggling to love and trust herself. While experiencing Emma's daily struggles, players will help Emma to raise her self-esteem, confidence, and resilience, step by step.
Game Play
Hedge Hug follows an approx 40min long story arc, including a range of interactive mini-games, emotional gameplay sequences, in addition to dialogues.
There is no winning or losing in Hedge Hug, it is all about a journey of self-discovery and reflection.

Controls:
Point & Click
Drag & Drop
Mouse Press
Press the "R" key to reset and reload the game from the start
For optimal in-game experiences, we recommend playing with a Windows PC machine, using a mouse.

Stay tuned for future Mac and Mobile builds!
---------------------------------------------------------
Feedback
Played the game? We would love to hear any feedback you have about your experience. Please fill in the short form attached in the following link:
https://docs.google.com/forms/d/e/1FAIpQLSe9UjqUgIZgE84KrWTMFlzow_j_19UAVCJPCf9m...
---------------------------------------------------------
Credits
Mengqing "Claire" Hu (Portfolio)

Creative Director, Engineer, UI/UX Designer

Timothy Pryor
Marielle Brady

Gameplay Designer, User Researcher, Narrative Designer

Aili "Alice" Qiao (Portfolio)

Gameplay Designer, User Researcher

Elsa Liu (Portfolio)
Shenqi "Barry" Ye (Portfolio)
Yi Dai (GitHub)
Sze Tien "Stella" Chen (Portfolio)
Sakura "Rachel" Perry (LinkedIn)
Celine Tang

UI/UX Designer and Artist, Background Artist

Claire Barnhart (Portfolio)
Katy Kellenberg (LinkedIn)
Alexandria "Alex" Morales
Brett Bailey (Portfolio)
Gage Tilly (Portfolio)
Other early progress contributors:
Hanxiu "Hannah" Zhang - Composer
Naomi Shroff-Mehta - Producer
Jiaxuan "Olivia" Yin - Art Direction Researcher
Download
Click download now to get access to the following files:
Comments
Log in with itch.io to leave a comment.
What an adorable game <3
Everyone should download and play!

Very cute and soothing game. saw it while watching the USC livestream and wanted to give it a shoot. I wasn't disappointed and I thought it was relaxing. Keep up the good work!
this is the cutest game ever 😍